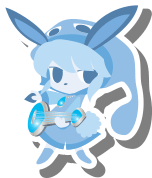 Welcome to my page!
If you have any content suggestions or wish to ask about anything feel free to ask me, I frequent the wikia so any and all messages will be addressed within 24 hours at the least!
I'll be on live chat most of tomorrow as i finished up all my work~ \(> u <)/
Personal to do list (feel free to help with these if you like!): Finish up bands page Improve upon important community pages making them more accessable add an area for the admins to introduce themselves Create (strangely) missing character pages Fix up unfinished episode pages
Community content is available under
CC-BY-SA
unless otherwise noted.