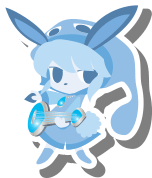 Welcome to my page, sorry it's void of much info-- at the current time i've been majorly focused on the wiki itself so theres very little time for me!
My utmost focus is delivering as much information as i can on show by rock for curious newcomers to the franchise and of course those who are fan's of the mobile (and/or) anime! 
Hopefully along the way i too can learn new things about the franchise too and grow as a fan, if you wish to ask anything feel free to hit me up on my message wall and i'll do my best to answer all of your questions!