Race
Myumon (Alien Sheep)
CV
Ayane Sakura (佐倉綾音) Monica Rial (English)
First appearance (anime)
Episode 1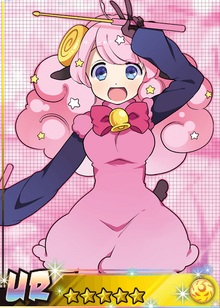 Moa (モア) is a member of Plasmagica and the drummer and vocalist of the group. As shown in one of the promotional videos, she is unable to turn up to practice with her band occasionally because of her job at a bedding store where she is seen hard at work.
Moa is seen doing regular reports on MidiCity through her star based CPU, as part of her mission. She also tends to add a lot of personal views to her report.  
Her drum is called "Super Cosmos."
Bio
Appearance
Moa is a black sheep with light pink wool adorned with several star adornments and a unique ahoge. She wears a pink balloon dress with stars on each side and a dark pink bow with a bell on her chest side. She also has black sleeves that cover her hands and black tights with bright pink knee-length boots that are flat.
As Light Moa, the stars in her hair change color and she gains a background of bubbles and sparkles.
As Pink Moa, she gains a frilly, short pink dress and matching boots. On each ear is a small pink ornament and pink silk ribbon, and at her neck is a pink sphere on a pale pink bows.
As Miracle Pink her hair gains a pale pink gradient and she gains gold ornaments and longer silk ribbons, along with a gold crown. Her eyes are sky-blue in color. Her dress appears longer in length to match the bow on her back and the one at her neck, beneath a large pink sphere. She wears white gloves with ruffled, frilly cuff ornaments.
Personality
She came from another galaxy for the sake of research. A natural airhead, a weirdo, a cosmic sheep girl. Her music sense is cosmic and premier amongst the other members. She says whatever comes to mind, sometimes getting her bandmates in trouble. Her favorite phrase is "pyuru," which seems to be how she communicates with her home planet.
Relationships
Anime
Appearance
In the anime, Moa's wool hair is now cotton-candy pink. The only alternation to her attire is that it comes with a red bow
Trivia
She peppers her opinions with very straightforward personal views including whether she "really really likes it" or "don't likes it".
She is able to use her unusually long ahoge as a connection to her small satellite above MidiCity and call for her spaceship which she came from.
Sings in the song "Dramatic∞Drumstick" as the main vocalist.
Community content is available under
CC-BY-SA
unless otherwise noted.