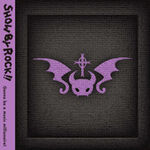 Song title
Blue Echo
Band
Demons Venom
Composer(s)
SeshiroX/Rockwell
Japanese
Romaji
English

代わり映えのない日々が僕の誓いを嘘にする
気づいたら行き詰まって壊したり消去したり

好きなものはなんだっけ?
確かな事実を頼りに懲りずに再構築した
ふとした刹那に

見えた 現実と夢をまたぐ
青すぎる空、疑った
僕の期待以上に遠くまで響いたecho

手繰り寄せて失って
青すぎる空、また恨んだ
君の読み通りに今日もまた響いたecho

Kawaribae no nai hibi ga boku no chikai o uso ni suru
Kidzuitara ikitsumatte kowashitari shoukyo shitari

Suki na mono wa nanda kke?
Tashika na jijitsu o tayori ni korizu ni saikouchiku shita
Futo shita setsuna ni

Mieta genjitsu to yume o matagu
Aosugiru sora, utagatta
Boku no kitai ijou ni tooku made hibiita echo

Taguriyosete ushinatte
Aosugiru sora, mata uranda
Kimi no yomidoori ni kyou mo mata hibiita echo



Days that have no substitute turn my oaths to lies,
And by the time I notice, I'm at a standstill, breaking- eliminating-

What kinds of things do I like anyway?
Relying on a certain truth, I rebuild, not learning my lesson,
In an impulsive moment.

I was suspicious of a far too blue sky,
Spanning the reality I saw a dream:
An echo that sounded out further than my expectations.

Again, I cursed that far too blue sky,
Losing track each time I reeled it in:
An echo that sounds again today, in just the way you predicted.