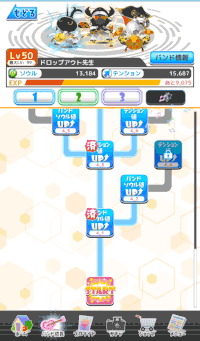 This is the Band Growth page. Here you are able to evolve and clear tiles to gain band power ups or episodes.
Growth Tree
As of version 4.0, a growth tree was added to the evolution mechanism. Steps that branch out are for power ups and band episodes.
As you work your way up the growth tree you can gain power ups that increase tension (テンション値 UP) and soul (バンドソウル値UP). In addition, once per tree, on the #_28 step you can obtain a band episode. To advance on the steps just tap on the next step available to unlock and a window should appear showing you the needed amount of energy orbs as well as how many you currently have. Tap on the first blue button (習得する) to use the energy orbs, or press on the second blue button (メロでィシアンを使用して習得する) to use melodisians to unlock the step. When the window to confirm appears just press the blue button (はい).
Evolving
In order to evolve a band a player will need to unlock steps straight up the tree. All bands have four forms which you can unlock by leveling up and evolving. Before evolving a band you'll need to max out their level, which is done by playing through tour and event songs.
You'll need music sheets and energy orbs to evolve bands. Music sheets can be obtained through achievements, daily login rewards and defeating bosses, and energy orbs can be obtained from achievements, in tour and some events, as well as daily login rewards. You can also use melodisians to advance through the steps.
To evolve a band press the orange step (進化) once you've unlocked all steps in the middle. The press the blue button (進化させる) and accept (はい).
Community content is available under
CC-BY-SA
unless otherwise noted.